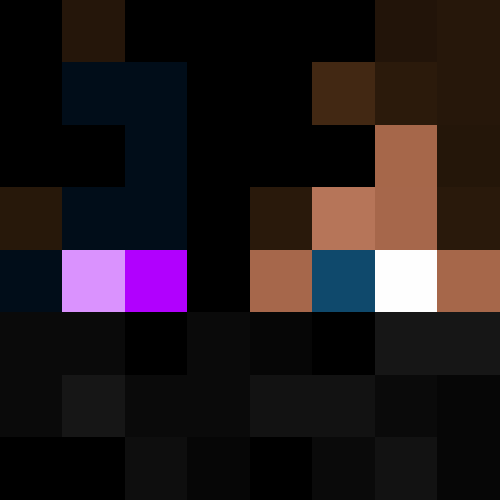 UniLam
Member
Minecraft IGN: UniLam
Registered: about 1 month ago
Last Seen: about 1 month ago
What is your Minecraft IGN?

What is your Discord IGN?

How old are you?

How long would you say you have been apart of the community?

What role are you applying for? (Admin / Moderator)

Jr Mod (Survival Builder)

Why are you applying for staff?

Not only do I love this server, but I want to be recognized across the ForgeMC community, I want to be welcomed by fellow members, administrators, or staff. I feel like the team is more suited to me because I'm a leader! I led my high school football team as captain throughout my senior year, I led my AP Photography Program to success, as well as I still own a Destiny 2 Clan, and I handle what's still going on in the clan when I'm at school and work. I 'm applying, too, because I was very impressed with how the server was put together by the staff and the community during season one. Finally, I've seen enough details about the server that indicates that this server is worth my time!

What past leadership experience do you have / Have you ever staffed on an MC server before? If yes, name it/them and the assigned role/s.?

I have developed leadership throughout playing football and owning a Destiny Clan. I have not staffed on an MC server before.

What sets you apart from other applicants?

Creativity, a lot of people will use this word to describe Minecraft themselves. I express my creativity not only in leading but also in spreading warmth to all the people I'm around. I'm passionate about how I express myself to people I know or even to new faces, my aim is to make a smile, to make them laugh or to show that I care. My imagination can also be seen in my buildings, I'm very right-brained, I seem to be more imaginative and have more emotional intelligence!

What can you bring to the server or staff team that is unique?

My sense of humor can be funny sometimes, my goal is to make my humor almost sound realistic or true. For example, I would make up a conflict that isn't true or isn't happening and make some believe that it was, haha.

How knowledgeable are you with Litebans, Coreprotect, and Essentials?

Not familiar with Litebans or some essentials I would need to be taught how to use these plugins, but I'm a fast learner with anything! Coreprotect is something I do understand!

How well do you know our core addons? (Factions, McMMO, Griefprevention?)

McMMO was a superior addon to add into the server it gives people information so they can understand how experienced they are in either mining, using their sword to kill mobs, or digging a hole to 1.16, lol. Griefprevention is great, especially now that the server is no longer whitelisted, this addon is excellent for building a trustworthy community.  

How well do you know the detailed factions mechanics (Cannoning, Common glitches, and misused bugs, version dependent mechanisms)?

I don't know the mechanics of the factions as well, but I'm always willing to learn!

Have you ever played all offered gamemodes enough to be helping out regular players on a staff knowledge basis? 

I have played Creative and Survival only, I'm not familiar with the Factions side, but that's why I can always learn! I could watch a YouTube video, ask higher ranked staff for some knowledge behind factions. Or even give it a try!
(Survival) A player uses core-protect inspect and finds out his friend stole from him, they get in a dispute. How do you handle the situation?

I would begin to address this myself, ask questions relating to both of their reasons behind stealing and the dispute as a whole. If this problem escalates to the point where the victim, isn't mad anymore I would warn the perpetrator not to steal again and address the warning to the staff chat as well. If the situation is not solved by simply asking questions and there is a further argument, I would address a further punishment as well as tell staff members that I am going too.

(Factions) Player X asks Player Y to teleport to him for a trade.  Player X kills Player Y.  Does either of them get banned?

No, because isn't factions all about the free for all aspect. Go crazy if you got too, maybe even lie sometimes.

(Factions) A player claims that his faction has been raided outside of provided mechanics and allowed ways to do so. No one witnessed, but no visual marks and spots of the raid are found. What do you do?

This sounds like an exploit; I would address a higher ranking of staff to observe the situation as well.

(Network) You get direct messaged on discord from a player. They claim one of the players on the server has been bribing them for inappropriate photos of themselves. The player also claims they have threatened them for the photos. How do you handle the situation?

Inform staff immediately because this is not a joking matter. If the victim can acquire evidence that one of the players is sending inappropriate photos of themselves, then further bans or blocks from the Discord server or Minecraft and the victim's Discord account would need to take place. Informing the police might be an option, but only if this is regards to child pornography. Once again this is a very serious precaution players must take seriously.    
Read More...
Earnings
| Date | Item Sales Count | Earnings |
| --- | --- | --- |
| monday, 12 | 3 | $400 |
| tuesday, 13 | 2 | $400 |
| wednesday, 14 | 3 | $420 |
| thursday, 15 | 5 | $500 |
| friday, 15 | 3 | $400 |
| saturday, 16 | 3 | $400 |
| sunday, 17 | 3 | $400 |
| monday, 18 | 3 | $500 |
| tuesday, 19 | 3 | $400 |
| | 28 | $3720 |